Friday, June 23rd, 2023 @ 3 - 4pm EDT
at
Greater Philadelphia Expo Center
Oaks, PA.
Gato Main Stage in Hall B

Some of the folks who are planning to be there:
@Alyxandr, @Anislug, @Ant, @Bacun, @BooneBum, @Bro-son, @BrandyBuizel, @Broly, @ChrisStarFer, @Chourios, @CommanderJersey, @CorTat-G, @CRF-Sage, @Cryptospore, @D-slick, @D3writo, @DArkwright20, @DocNG, @DrewPBalls, @Droid, @Emizip, @EugeneDoesArt, @Fliglaba, @ForgeFrog, @GirZiggler, @Goji, @GreenGungeGirl, @heyopc, @Hibachi, @HollowLugia, @Imprez, @IvanAlmighty, @Jonas, @Jrx, @kastozx, @Kekiiro, @KindaDrake, @KingCrowned, @Kiyo, @Kuni, @Luis, @MarshyBruh, @marvazoid, @maxxjamez, @MisMash, @MKMaffo, @MrKennStar, @MrShoeShine7, @MysteriousMantis, @NattoSumi, @NeatoNG, @NickSenny, @ninjamuffin99, @PieLordCollin, @PKettles, @RavioliBox, @RBxGemini, @rosiegothicc, @Shal, @Slimygoo, @Spinalpalm, @SrPelo, @Taka, @Tamag0, @TheDyingSun, @TomFulp, @thelemonman99, @vividlance, @Wailer, @xchl0ex, @YendorNG
If you're planning on going, say in the comments and I'll add you to the list!

COOL STUFF
Show up to the meetup and receive this COOL AWESOME POSTER
made by the COOL AWESOME @Hibachi!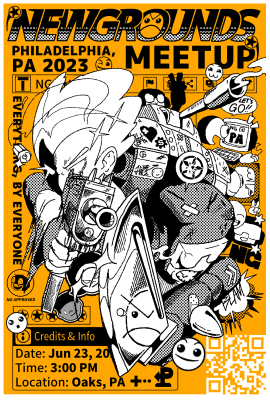 Posters will be 11x17"
--
We will also be giving out these EPIC STICKERS
made by the EPIC @PKettles & @Hibachi!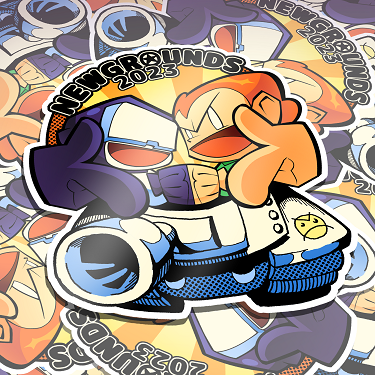 KEEP UP TO DATE
Join the DISCORD SERVER to get updates on the meetup!

BIG THANKS
BIG thanks to @DrewPBalls, @Bacun, @Rascal, @Anislug, and the TooManyGames staff for helping put this together!